Whole Horse Therapies
Whole Horse Therapies provides a wide range of holistic therapies to help your horse be the best he can be. Therapies include massage, reiki, spinal and cranial realignment using energy based techniques, fascial release, red light therapy, acupressure, communication, and applied herbal choices.
I only stock products from suppliers whose ethos matches my own and whose products I have already used on my own horses.
As a general rule I tend to stock the products I use the most. My favourite products, which I have been using for years, are the most magnificent Field Paste, HoneyHeel, HydroHoof, Red Zone Super and Sole Cleanse. I can order any products in and may expand the range of products held in stock in the near future, so please do get in touch if the product you would like is not currently listed.
Products can be collected from my yard or mailed to you direct. I'm based on the Herefordshire, Gloucestershire and Monmouthshire borders.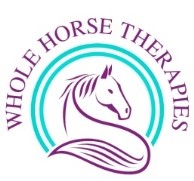 Products we stock
Tel

07879 884034

Address

Bryants Court Farm
Goodrich
Ross-on-Wye
Herefordshire
HR9 6JA

Website

Email