Muscle supporting supplement for horses
Red Horse Muscle Support is a supernutrient rich feed supplement to assist in the development of strong, healthy muscle in horses.
Leucine is one of the main amino acids that horses require to assist them in muscle development. Muscle Support provides a high level of leucine and HMB which is a metabolite of leucine. Agmatine is included to help improve muscle strength and stamina, allowing horses to work harder for longer.
Both grapeseed extract and agmatine are thought to improve stamina and growth by improving circulation to muscles.
NOTE: no protein supplement will produce muscle development if energy in the horses diet and correct training are lacking. Consult a nutritionalist if you are unsure.
Please Note: we cannot ship this product to the USA with FedEx

Muscle Support contains premium ingredients at high concentrations. No unnecessary fillers have been added.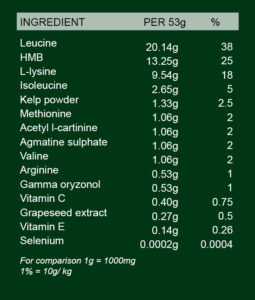 Van De Man
Van De Man is an FEI 1* event horse ridden by Tristram Owers. Although very talented he had always struggled to keep his condition and to recover from the physical and mental demands of eventing. This showed in him finding it hard to become established in his work and achieve consistent results.
For 2 months he had Muscle Support added to his feeds.
His condition improved but he also developed greater stamina and mental and physical toughness. He also showed improved performance and results at CCI* level achieving 5 double clears in a row.
"Since feeding Muscle Support I am positive that he is now ready to step up to Intermediate. I am seriously toying with putting the whole yard on it!" – Tristram Owers
Add Muscle Support to your horse's main feeds, spread over as many meals as possible. Mix in well and introduce gradually if you have a fussy eater.
Regular Feeding Amount: 35g/ day (800g will last 23 days and 2500g will last 71 days)
Muscle Building Feeding Amount: 53g/ day (800g will last 15 days and 2500g will last 47 days)