Joint supplement for horses
Red Horse Joint Support contains top-quality nutrients in high concentrations to help protect horses' joints and keep them comfortable.
Glucosamine, which is known for its regenerative effect on joints, is combined with chondroitin sulphate at an ideal ratio (2 parts glucosamine to 1 part chondroitin sulphate). Concentrated boswelia extract and MSM are included to help increase joint comfort and help your horse move freely and smoothly. Joint Support also contains hylauronic acid and additional vitamins, minerals and plant extracts to offer a broad spectrum of protection and care.
We believe Joint Support to be the most concentrated yet affordable chondroitin and glucosamine joint support product available.

Joint Support contains premium ingredients at high concentrations. No unnecessary fillers have been added.
Glucosamine Sulphate (40%)
MSM (20%)
Chondroitin sulphate (20%)
Avocado soy unsaponifiables (6%)
Ascorbic acid (5%)
Boswelia extract (4%)
L-Glutamine (1.2%)
Glycine (1.2%)
Glucauronic acid (0.6%)
Proline (0.6%)
Hylauronic acid (0.5%)
Glutamic acid (0.5%)
Bamboo silica (0.49%)
Once we have worked through our current supplies we will be removing l-glutamine from the formulation.
19 Year Old Shetland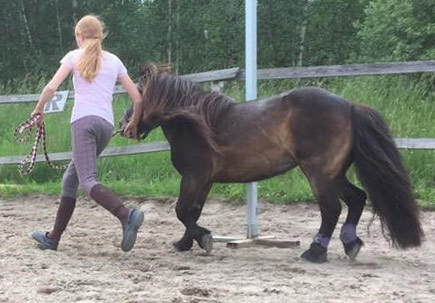 This 19 Year old barefoot Shetland pony, used for driving in Finland had marked stiffness and pain in both hocks.
Other joint supplments had been used with little success including Arthroflex+ on a vet's reccomendation.
The pony was switched onto Red Horse Joint Support at a rate of 10g per day, she has now been on it over 2 years.
The hocks seem much better with the pony showing better, more active and energised movement. After 'a few' days for it to take effect fewer problems with the hocks were observed and work levels were able to be increased.
"I would totally recommend Joint Support for all ponies/horses that have joint problems, it clearly helps."
Provided by Anna Livarinen
17 Year Old Trec Horse
My horse has arthritic changes in jocks and fetlocks behind. I have tried a range of supplements to try and increase mobility expensive ones and cheaper ones. I thought he was going to have to retire at 17 as the only way I could keep him even partially sound was on Bute.
I started feeding this around a year ago and can not believe the difference. He has been off Bute for almost a year, remained sound, increased work even getting out to compete at his beloved Trec again. And in the last few months I have even felt able to start schooling him properly again.
The product contains the nutritional bits for good joint support and boswellia as an anti inflammatory. It seems to have a very high spec for a good price.
Provided By Sarah Wynn on FaceBook
We suggest adding Joint Support to your horses daily feed at the following rates. We recommend using the optimum amount for at least 2 weeks and then reducing to maintenance unless joints are compromised.
OPTIMUM CARE:
Weight upto 300kg: feed 20g per day or 2 scoops, 1kg will last 50 days
300-600kg: feed 25g per day or 2.5 scoops, 1kg will last 40 days
Over 600kg: feed 30g per day or 3 scoops, 1kg will last 33 days
MAINTENANCE:
Weight upto 300kg: feed 10g per day or 1 scoop, 1kg will last 100 days
300-600kg: feed 12.5g per day or 1.25 scoops, 1kg will last 80 days
Over 600kg: feed 15g per day or 1.5 scoops, 1kg will last 66 days